In brief
Bitcoin's realized price has broken above $10,000 for the first time.
This figure represents the average price at which every Bitcoin was last moved.
It's often interpreted as the average BTC buy price.
The realized price of Bitcoin (BTC) has increased above $10,000 for the first time in history today, according to crypto analytics firm Glassnode. This figure represents the price that each Bitcoin was worth when it last moved.
"Bitcoin realized price is the average price at which each Bitcoin moved the last time in the network. It is the average value that investors have assigned to BTC (according to their last on-chain movement)," explained Glassnode CTO Rafael Schultze-Kraft, adding that it is "Often interpreted as the average $BTC buy price."
In other words, while Bitcoin's market capitalization is the total number of BTC multiplied by the current market price of each coin, its realized capitalization considers the value of each BTC at the price of its last movement on the blockchain. Thus, Bitcoin's realized price equals the realized cap divided by the current supply. 
According to analytics platform Coin Metrics, Bitcoin's current realized cap amounts to roughly $189.2 billion. If we divide this by 18,593,500—the total supply of BTC currently in circulation—we get around $10,175, which is its realized price.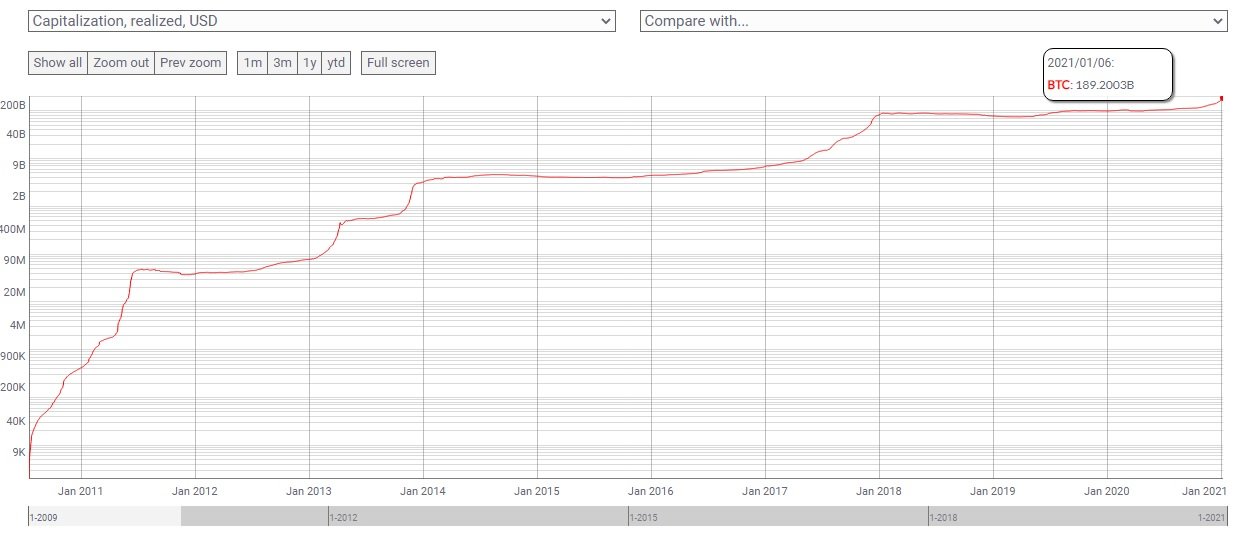 Bitcoin's realized price is important because it presents a way of understanding Bitcoin's growth while reducing the effect of large spikes in value. As seen in the graph above, Bitcoin's realized cap rose in 2017, but it doesn't spike to extreme levels as it does on its normal price chart.
Meanwhile, the total market capitalization of all cryptocurrencies broke above $1 trillion today. According to ShapeShift CEO Erik Voorhees, this record figure will likely double in less than six months.
I am Campurro, one of the founders of MonetaVerde Coin.